Michael Howard hired as National Team Head Coach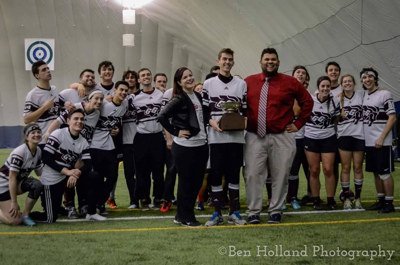 Photo features Michael Howard holding the National Championship Trophy from the 2015-16 Season. Credit to Ben Holland.
Michael Howard, former captain and coach of the 2015-16 Quidditch Canada National Champions – the University of Ottawa GeeGees – has been hired as the Head Coach for the 2018 National Team.
Michael began playing quidditch in September 2012 at the University of Ottawa. He brings a wealth of quidditch experience to the National Team staff, given both his time with University of Ottawa team, and with MLQ's Rochester Whiteout. Beyond quidditch, he carries a strong coaching background in hockey and soccer. Currently he plays for Valhalla Quidditch of Toronto, ON.

As Quidditch Canada's first non-playing head coach, Michael will be responsible for overseeing the growth and development of Quidditch Canada's standing national team. We are excited to have such a passionate, committed member of the community at the forefront of our World Cup 2018 journey.
Cover photo: Ben Holland
---