Eastern Regional and National Championship Bid Finalists Announced for 2018-19 Season
Cover Photo by Annemieke Drost
Quidditch Canada is excited to reveal information regarding the finalists for the 2018-19 Eastern Regional Championship and National Championship. To all the cities across Canada who have presented bids so far: thank you for your enthusiasm for our sport and community; we are looking forward to working with you in the following months to continue creating quality events.  Moving forward in this process, site visits will be conducted and details of each host facility will be explored.
Eastern Regionals Champions 2018-19 Finalists
Oshawa, Ontario at Civic Recreation Complex

Guelph, Ontario at University of Guelph Alumni Stadium


National Champions 2018-19 Finalists
Hamilton, Ontario at Tim Hortons Field or McMaster University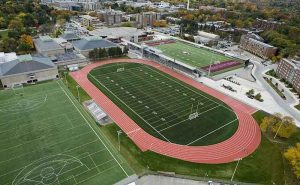 Winnipeg, Manitoba at Soccer Federation North


Guelph, Ontario at University of Guelph Alumni Stadium


Quidditch Canada would also like to take this time to announce the following competition bids have been extended until June 8, 2018:
Western Regionals 2018-19

Western Regionals 2019-20

Eastern Regionals 2019-20

Nationals Championship 2019-20
This decision has been made to accommodate host cities as they continue their tireless efforts to create quality events for this community.  
---
I am thrilled to be a part of this process as part of my introduction to Quidditch Canada management!  Sachin Kotecha and I are extremely excited to work with each of these cities and continue to grow this sport with each coming season.
Bethan Morgan