Quidditch Canada Nationals Preview: The 2018-19 Rookie Class
Fifteen quidditch teams from across Canada will return to Hamilton, Ontario to compete for the Jessop-Robinson Trophy and the National title. While the livestream will certainly feature some familiar faces of players who have been on the pitch for over seven years, this season we turn the spotlight to our new recruits. Who are fifteen new players to look out for at McMaster University this weekend?
ALEX WARDEN (#42)
Ottawa Otters
Chaser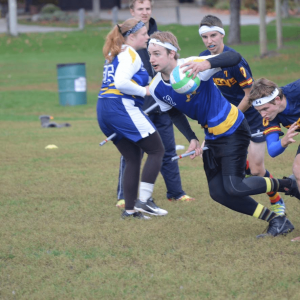 Coming from a rugby background, Warden's tackling experience make him a physical player on the pitch, and one who has adjusted well to the one-armed tackling used in quidditch. He is ambidextrous and is comfortable playing either side of the pitch on offense and on defense, and been steadily improving his ability to find open space and make cuts around the hoops for quick goals. Warden is always looking to improve his game, and is excited to take his game to the next level on the National stage.
BENJAMIN ANDREWS (#93)
Valhalla Quidditch
Beater
Andrews joins Valhalla's fresh faced beating core this season as the only quidditch rookie, playing alongside childhood friend Michael Beda, chaser on Valhalla. Andrews (alongside Beda) played every varsity sport offered in high school (Basketball, soccer, volleyball, track & field, football, rugby), and it was Beda that eventually brought him to quidditch. Andrews is a physically imposing beater whose speed, athleticism, and arm have made him a deep threat on a team of veterans. What is he most looking forward to this weekend?  "I love the fight-for-your-life moments. Tight games on finals day bring out an adrenaline you just don't find off the pitch."
CHRISTOPHER LEWIS (#88)
Queen's Quidditch
Keeper/Chaser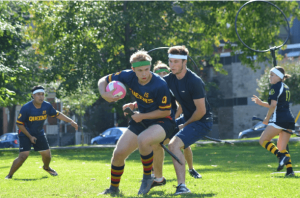 Lewis brings a rugby and cycling background to his first year of quidditch. He has quickly become a core member of Queen's historic program, has a committed work ethic, and is eager to learn the rules of quidditch. His response, when asked what he hopes to accomplish at Nationals this year: "Also smash."
CLAIRE MERKOSKY (#9)
Edmonton Aurors
Chaser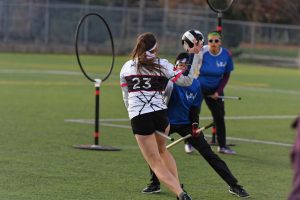 Though Merkosky has limited years of quidditch experience, she more than makes up for it with a decade of soccer and basketball under her belt. She is known as a dynamic, persistent wing player who is always looking to create space and generate scoring opportunities, no matter the situation. Merkosky is looking forward to meeting new competition on the field this weekend in Hamilton.
DAVID KHAZZAM
Waterloo Ridgebacks
Chaser/Seeker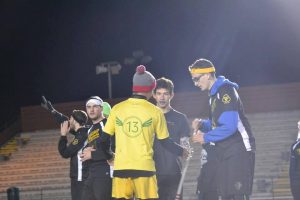 Khazzam has been playing hockey since he was 6 years old, and brings that wealth of experience onto the pitch. He a strategically-minded player who is always looking to execute clean passes and involve his teammates in every play.
EMILY BOJDA (#33)
Valfreyja Quidditch
Chaser
Bojda's extensive soccer experience is bought what brought her to the pitch, and what has made her an asset on the pitch. Valhalla players on her co-ed soccer team convinced her to come out to a fantasy day over the summer, and she's stuck around ever since. "You can sense the player camaraderie no matter what team you belong to," says Bojda. "Everyone lifts each other up and celebrates each other's victory, no matter how big or how small." Her quick feet, field awareness, and speed make her an agile player, a dependable receiver, and a top defender on her squad. Watch for her spin move to the hoops this weekend in Hamilton, ON.
EMILY SURDEK (#78)
Canada's Finest Quidditch Club
Beater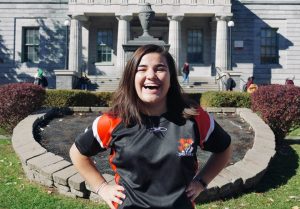 McGill University's quidditch program is one that recruits young talent and develops them well. Surdek is among that talent. Playing as a beater at this year's National Championship, expect a beater that will play hard and have fun doing it. She brings a fresh energy and a team spirit to McGill's affiliate team, and is looking to help CFQC secure their first win of the season.
JARED WARDEN-JOSEPH (#57)
McGill Quidditch
Seeker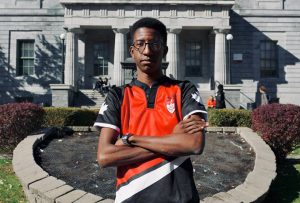 Warden-Joseph's seeking skill have enabled him to move up the ranks this season, beginning as a seeker on McGill's affiliate team – Canada's Finest Quidditch Club – and ending the season with the historic McGill Quidditch Program. McGill's infamous seeker/snitch core is not to be underestimated – Warden-Joseph brings a level of athleticism and agility that enable him to excel in his new role.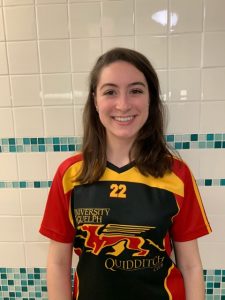 NATALIA KERMECI (#22)
Guelph Gryphons
Chaser
Kermeci is known to play a strategic passing game. Her teammates recognize her for her spatial awareness and speed, making her ideal for the outlet pass on offense, and is quick to mark opposing players on defense. A combination of basketball, ultimate, hockey, badminton, and swimming experience make her a well rounded athlete. "I'm excited to gain more experience, learn from older players, and grow as a player myself," says Kermeci.
NATHAN UNRAU (#18)
Vancouver Storm Crows
Beater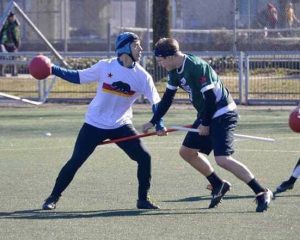 Unrau joins the newly formed Storm Crows as a rookie beater and seeker-in-training. He is a player that is actively looking to be in the middle of the action; he brings physicality, aggression, and fire to a team of mostly veterans. A well rounded background in baseball, rugby, and soccer make him well suited to his position. This weekend on the National stage, Unrau is looking to prove himself as a player, "as well as contribute to a top tier team."
NATHAN WAN (#11)
British Columbia Quidditch Club
Chaser/Beater
Wan is cited by his teammates as an effective player who both chases and beats with ease – though you're more likely to find him chasing. He is a wing player with great game awareness, and is always looking to make a smart pass, a dunk, or a full tackle.
RYAN BABENSEE (#13)
Royal City Quidditch
Beater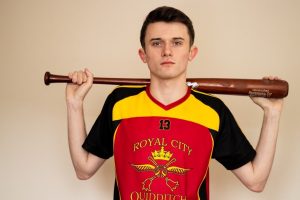 Babensee plays a fast and aggressive beating style, very much in line with the phenomenal Guelph beater core Canadian quidditch followers know well. His speed and field awareness, alongside his determination and work ethic, have enabled him to quickly develop into one of Royal City's starting beaters.
SAVANNAH CAMPBELL (#21)
uOttawa Quidditch
Chaser/Seeker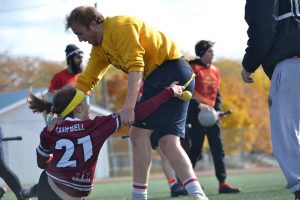 Campbell's background of track, soccer, kickboxing, and tennis make her a formidable athlete on the quidditch pitch, with the skills and strengths that are well suited to uOttawa's physical play style. She is tenacious, relentless, and aggressive on the field, and is looking to continue improving her game this coming weekend. Her message is to elusive and experienced snitch Cory Smithson: "I'm going to catch you Cory!"
VICKY JIANG (#88)
SFU Quidditch Club
Chaser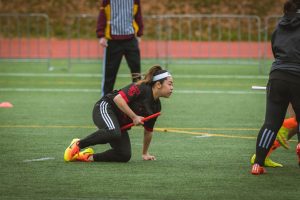 Jiang's previous athletic background mainly features dance, but is also complemented by basketball and volleyball. Though she is among the smaller players on the pitch, she known to play big and make big plays, particularly on defense. She's known by her teammates on the pitch as a great pass option with enough foot speed to make buckets before the defense can adjust. This weekend, she is looking forward to engaging with more of the quidditch community, both on and off the pitch.
YOUSSEF SAROFIM (#6)
UofT Centaurs
Keeper/Chaser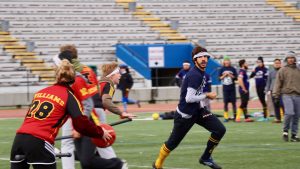 Sarofim is one of the herd this year, joining the Centaurs as a utility Keeper and Chaser. Having previously played Ultimate, his experience with a fast paced gender integrated game has been useful to his ability to pick up on the sport of quidditch. Sarofim is unafraid of physicality, a fast driver, and a team player.
Catch the culmination of the 2018-19 Season at McMaster University this weekend. Follow along with the action here.
---