Nina Patti to depart from Quidditch Canada. Now accepting applications for Volunteer Director.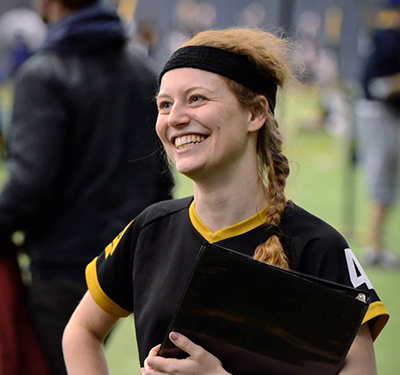 Photo credit: Ben Holland
Quidditch Canada's Volunteer Director Nina Patti will be transitioning out of her role with an anticipated departure date of April 21, 2017.
Nina was hired as Volunteer Director of Quidditch Canada in August of 2015. Since then, she has operated as the first point of contact for the entirety of Quidditch Canada's volunteer staff. Her outreach initiatives have provided a strong foundation for growth within both the department and the organization as a whole. Notably, Nina spearheaded the committee that developed Quidditch Canada's Team Council – a critical tool for dialogue between Canadian teams and the Executive Board.
We would like to extend our sincerest thanks to Nina for her passion, commitment, and contribution to quidditch in Canada. She will be greatly missed by the volunteer staff, the board, and the community alike.
Applications are being accepted for the Volunteer Director position until April 7, 2017. Learn more about the details of the position and submit your applications at http://quidditchcanada.com/volunteer-with-us/ 
Cover photo credit: Jane Arnett
---